Registration
Please use the link below to register your participation and accommodation for the 2016 IRCT General Assembly and 10th Scientific Symposium "Delivering on the Promise of the Right to Rehabilitation".
Please note that you will be asked to first create a user account in order to register.
https://irctsymposium2016.exordo.com/

Terms and Conditions
Registration Options
There are two (2) options for registering participation.
Please note, registration for General Assembly Delegates has closed.
1. Symposium Participant - non-resident (international)
All persons not residing in Mexico are asked to register under this category. The registration fee is 480 EUR, and includes full catering, conference material, translation services, among other special services. Travel and accomodation are not included.
2. Participante en el Simposio - residentes locales (México)
Todas las personas que residen en México deben inscribirse en esta categoría. La cuota de inscripción anticipada es 320 EUR, e incluye comida, material de la conferencia, servicios de traducción, entre otros servicios especiales. Viajes y alojamiento no están incluídos. IRCT tiene una cantidad limitada de subsidios financieros disponibles. En el formulario de registro, por favor, indique si desea solicitar apoyo financiero para el viaje, el alojamiento y / o cuota de inscripción.
Limited space is available. Should the interest in participation exceed the available spaces, the IRCT will put in place a system to facilitate equitable access to the Symposium.
Registration Fee
Participation at the event requires a fee. This fee will be charged, respectively, regardless of the periods of time a participant attends the conference.
The registration fee does not include travel and accommodation, additional beverages, minibar, printing services, additional transportation, laundry services, or any other personal expenses.
Financial support for participation
The IRCT has a limited amount of financial subsidies available. Please indicate in the relevant section within the registration form if you wish to apply for financial support towards your registration fee, travel and/or accommodation.
Accommodation
It is possible to book accommodation at the event venue, Hilton Mexico City Reforma in conjunction with the registration. The event organizers have negotiated special room rates with the Hilton Mexico City Reforma for the duration of the event. For more information about the event hotel, please click here.
In order to enjoy the special rates, participants must book their accommodation at the Hilton Mexcio City Reforma via the registration form. The hotel booking fee will be automatically processed as part of the registration. Participants can also amend their registration at a later stage to add hotel booking. This is dependent on availability. Participants must provide complete payment for accommodation upon registration in order to secure the hotel booking. 
The booking for each participant is for one (1) Single Standard Room including breakfast.
There are three (3) categories from which to choose:
1. Symposium Participant - International (Tax Free)
International participants are asked to indicate the number of nights they would like to stay at the event venue (Hilton Mexico City Reforma). The cost per night is 172 EUR and includes breakfast. In order for international participants to enjoy the tax-free rate, they will be required to present a copy of their passport and their migration form (obtained at the airport) upon arrival at the hotel. 
2. Symposium Participant - Local (Residing in Mexico)
Local participants are asked to indicate the number of nights they would like to stay at the event venue (Hilton Mexico City Reforma). The cost per night is 185 EUR and includes breakfast.
3. No Accommodation Required
Participants that do not require accommodation at the event venue (Hilton Mexico City Reforma), are asked to choose category four.
Accompanying persons
If participants travel with an additional person that is not participating in the Symposium, this person is not required to pay the registration fee.
It is possible to amend the hotel booking at the event venue (Hilton Mexico City Reforma) to a Double Standard Room for an additional fee. Please contact symposium-ga@irct.org.
Payment of fees
Registration and accommodation fee payments may be made via:
1.    Credit card payment/ PayPal
2.    Bank Transfer
3.    Mobile Pay

In the case of payment-related errors, the IRCT and CCTI do not assume any responsibility or provide additional compensation, but will implement relevant refund and cancellation policies.
Refund and cancellation policies
Cancellations must be submitted in writing to the IRCT via symposium-ga@irct.org. 
All cancellations must be received by the Secretariat by 3 October 2016. Those entitled to a refund, will be charged a handling fee of 50EUR. No refunds will be provided to registrants who cancel after 3 October 2016, or who fail to attend the event (no show).
Individuals that complete the payment process, but subsequently receive financial subsidies through the Secretariat will receive a refund in accordance with their granted funds. No handling fee will be charged. 
In the case of event cancellation, the IRCT will refund all participants with no additional handling fee.
Delegates with special needs
The IRCT and CCTI prioritize the accessibility and comfort of participants with special needs. Should you require any specific assistance, catering or arrangements to be made on your behalf, please include a brief statement on your registration form under the sections 'Dietary Requirements' and 'Special Requirements', or send an email to symposium-ga@irct.org.
Insurance
Registration fees do not include personal travel insurance of any kind. We strongly recommended that when registering for the event and making travel arrangements individuals seek an adequate travel insurance to cover any potential losses, cancellations, emergency medical incidents, or any other need. 
The IRCT and CCTI do not assume any responsibility from any gaps in insurance acquired.

Please note, IRCT General Assembly Delegates will receive travel insurance as part of their cost coverage.
Migration Form
Upon arrival, international visitors will be asked to present their completed migration form to customs agents for review. The agent will return the bottom half of the form, which is required to be handed-in upon departure. International visitors staying at the Hilton will be required to show their migration form in order to enjoy the tax-free rate.
At the time of departing Mexico City via the airport, visitors will be asked to return their migration form at the airport. If visitors lose, misplace or dispose of their migration form prior to their departure, they will be charged a fine of approximately 42 Mexican Pesos.
The IRCT is not responsible for lost, misplaced or destroyed migration forms. The event organizers will not cover the cost of the fine.
A sample of the form may be found below: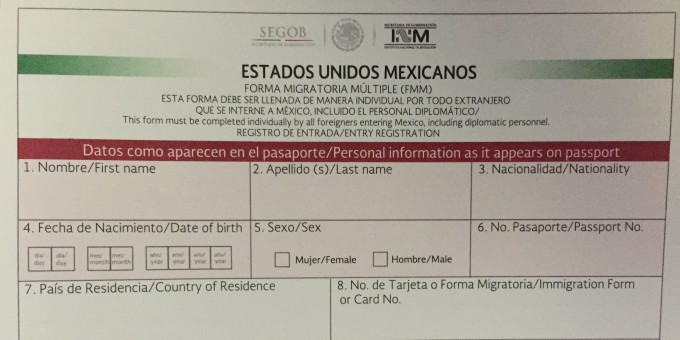 Liability
Attendance for the 2016 IRCT General Assembly and the 10th Scientific Symposium is at your own risk.  In no event will IRCT or CCTI be liable for death, injury, any loss, cost or expense suffered by any person (including accompanying persons, partner, or attendant caregivers). In particular, the IRCT or CCTI are not liable for losses associated with services provided by any third party, including but not limited to: the venue, travel agencies, visa services or transport operators. Additionally, the IRCT or CCTI will not be held liable for losses or injuries associated with technical or medical matters within the conference venue or host city.
It is the intention of the IRCT or CCTI to conduct the event according to the established schedule and dates published on its event page and reiterated within registration options. 
However unlikely, unforeseen  circumstances  may  result  in  schedule  changes  or  conference cancellation. Registrants will be notified by email of major changes or cancellation.
For specific inquiries, please send an email to symposium-ga@irct.org.
More Information
If you have any questions or concerns, please contact symposium-ga@irct.org. 
Si usted tiene alguna pregunta, por favor, póngase en contacto con symposium-ga@irct.org.
&nbps;